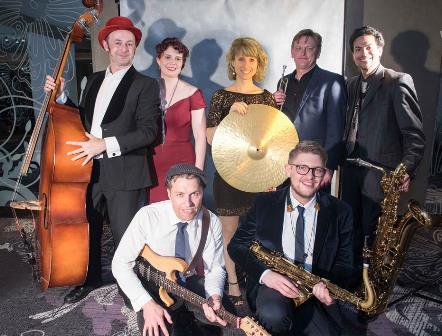 Cafe Culture – Dr Crask & His Swinging Elixir Band
Saturday September 8th, 7.30pm.
Orbost Exhibition Centre, 8 Clarke St, Orbost
Re-imagine the jumpin' vibe of the iconic Savoy Ballroom era.
Who are we?
We are a little big-band based in Melbourne, Australia, playing the dance floor standards of the 30's, 40's, and there-abouts. Our line-up is:
Gregory Craske

on double bass

Jen Salisbury on vocals
Stuart Ferguson on trumpet
Trent Howard on tenor sax
Aaron Rodriguez on baritone sax
Keaton Tait on guitar
Jim Dunlop on drums
A short biography
Whatever ails you, a dose of Dr Crask and his Swingin' Elixir is guaranteed to get you on your feet. Playing swing tunes predominantly of the 30's and 40's, the Swingin' Elixir kicks out the dancing tunes with Lindy Hop in mind. You'll hear songs that were performed by the likes of Fats Waller, Duke Ellington, Count Basie, Ella Fitzgerald, Louis Prima just to name a few. The 4 piece rhythm section, and 3 piece horn section, together with the silky smooth vocals of Jen Salisbury, comprise this 'little big-band'.